Everytime this point of the winter season rolls around, I start dying to feel some warmth on my skin. Despite the numerous cold fronts sweeping the Southeast, somehow the sun has managed to find its way to us. Another pre-spring habit of mine is to fall in love (again) with pretty dusty pinks and taupes/browns/golds of all shades. I saw this outfit on Lea Michele, and I thought she pulled off these colors perfectly.
I love the balance between the bustier and the romantic ruffles on the skirt.
-Hope
Filed under: Uncategorized
|
Leave a

Comment
Tags:
fashion
,
glee
,
lea michele
,
spring
,
sun
,
winter
Yes, it has been a while since I've posted anything here. I've been caught up with new things since November, when I started working at my brand new job as a professional proofreader (which I absolutely love). I get paid to read all day, i.e., the best job in the world. In the meantime—when I'm not driving to work (an hour), working, driving home from work (another hour), and working a few shifts here and there at my beloved Fossil—I am still trying to craft handmade things. Right now I'm finishing up (late) Christmas presents for two of my friends. My parents gave me a Janome Hello Kitty sewing machine for Christmas, and I'm so excited to see what I can do with it. I've already ordered an amazing Amy Butler apron pattern, which I plan to make for my newly engaged friend.
I'm also obsessed with Amy Butler's new Love line of fabric. I'm excited to try to make an apron soon.
I also stocked up on random clothes patterns by McCall's and Simplicity during a crazy New Year's sale at Hancock Fabrics. Each pattern was only $2, so I grabbed a few Cynthia Rowley patterns that I'm really excited about.
Just a few things I've liked lately:
I think this bag is the perfect gift for brides-to-be…I might have to invest in a few for my engaged friends (or try to embroider them myself).
Of course I would love this necklace.
I first discovered the illustrations of Ryan Berkley when I found a shark passport cover for Chad's Christmas present in 2008. I especially love this pygmy marmoset print. Chad and I want to order and bunch and do a series of frames in our house.
This necklace is an amazing combination of modern design and antiquarian type. I think it would go perfectly with the Jonathan Adler Nook case Chad got me for Christmas.
I think this stunning antique necklace speaks for itself.
I saw this etsy seller featured in an article in the New York Times. This scarf is so great, but I can't afford it, ha.
-Hope
Filed under: Uncategorized
|
Leave a

Comment
Just a quick post about three of my favorite etsy designers.
chainchainchained : I absolutely love Regina's metal jewelry. So beautiful. Her blog A Chain of Events is linked on my blog roll.
RachelleD : Rachelle's mixture of beads, chains, and handmade floral pieces are stunning.
clearcutcrafts2007 : Handmade paper butterflies! As featured in Martha Stewart Weddings.
-Hope
Filed under: Uncategorized
|
1

Comment
Tags:
butterflies
,
chainchainchained
,
clearcutcrafts2007
,
crafts
,
etsy
,
inspiration
,
jewelry
,
rachelled
,
weddings
The Southern Festival of Books takes place every year at the War Memorial Plaza in Nashville. The festival gathers renowned authors (Southern and not-so-Southern) to share their works with attendees and sign books. I attended the festival last year and heard readings by Sherman Alexie (who was insightful and absolutely hilarious) and Rick Bragg (who I think puts on a certain persona to attract readers to his humble, self-admitted "white trash" prose).
The festival grounds on Saturday were trapped in a gloomy, damp haze of recent bad weather, and I felt bad for the sales reps trying to push their authors' books like Chryslers on a used car lot. I hope to possibly engage some Nashville publishing contacts, but every time I stepped across the threshold of a tented booth, I was instantly sized up as a possible book-buyer. Last year I noticed more local publishers. Many of the people I spoke with this year were from outside Tennessee and trying to sell devotional paperbacks clad with overly sentimental, glossy covers. I tried to ignore the ridiculous religious imagery of doves, clasped hands, and ethereal fire poorly photoshopped to fuse into the saving, redeeming, providing light of Jesus, but even when I saw an opportunity to speak with a rep, a man dressed like a cross between Big Daddy and a Louis L'Amour character stepped in front of me to most likely start a conversation about boot spurs or the benefit of owning large acreages of property. Overall I was disappointed with the selection of publishers and was unfortunately fruitless in my networking skills.
The main attraction for my husband and me (and probably most of the festival go-ers) was meeting Buzz Aldrin and hearing him speak about his new (ghostwritten) autobiography Magnificent Desolation. Several weeks prior to the festival, the SoFestofBooks PR team launched a Twitter contest for those planning to attend this year's festival. Every Monday, @SoFestofBooks would tweet an obscure clue, and whoever @replied with the correct answer first, won a Speed Reader Pass. The Pass would enable you to choose one author to skip ahead of the book signing line. After multiple tries and losses, I finally won one of the passes. I chose Buzz Aldrin; my husband is an avid fan of all things Apollo and has never actually met one of the astronauts. I was excited to provide Chad with the opportunity to meet one of the twelve moonwalkers.
We arrived at the festival about an hour early, giving us time to battle the book tables to purchase Magnificent Desolation and hang out a bit. We ran into one of my former professors from Lee and three English students. While it was nice to see them, I am always saddened when people from Lee ask what I'm up to. Yes, we are married and are still in Cleveland, and married life is great. Yes, it's true that I'm using my English degree to fold t-shirts and deal with the grumpy crowd at the always classy Hamilton Place. Oh well.
After finally purchasing the book, we snuck into the last ten minutes of Rick Bragg's reading (he was scheduled before Aldrin). As soon as Bragg was finished detailing his escapades as a father and his distaste for selling his books to Hollywood, we grabbed some seats a few rows back from where Aldrin would be speaking.
His speech was pretty good, if not incoherent, and touched on his thoughts about exploring space in the next few years. He alluded to President Obama without mentioning him by name and expressed his desire for the United States to again pioneer space exploration (on the Moon, Mars, and Phobos).He didn't really discuss much about his book except for the meaning of the title, and he spent several minutes justifying his luxurious Louis Vuitton suitcase collection and endorsement.
Immediately after the speech, Chad and I made our way to the plaza where Aldrin would be signing books. There was already a line of a few hundred people, so we moved to the front with another one of the winners who had been sitting near us. We were escorted to the front of the line by one of the Festival workers, but the people in line were instantly mad. I thought maybe someone would be upset, but I didn't anticipate how angry people were about us skipping.
When Chad actually got to the table, Aldrin didn't look up from the table, ask Chad his name, or even acknowledge Chad's (or anyone else's) presence. He just continued talking to his ghostwriter, also in attendance of the festival, about someone trying to rip off his autograph. I couldn't believe that he didn't even pretend to care about his fans, especially when Chad was in the first ten people in line for the signing. I can't imagine how he treated #50 and beyond. There were some young girls in front of us, excited to have Aldrin sign his children's book Look To the Stars, and he treated them with the same apathy. It was a little unbelievable.
When we were exiting the plaza, a man who had been sitting near us during the speech began to heckle us about cutting line. He continued to argue even after I nicely explained about the contest and held up my VIP pass. He ended up implying that Chad was an asshole and we angrily left. I don't really understand some people. It was none of the man's business about the contest, but somehow he decided to make a comment about two people he didn't know and continue to harass even after the explanation. I guess he had already crossed the line by saying something and couldn't recover unless he kept being annoying. Who knows.
Overall, I enjoyed the festival and I'm glad that Humanities of Tennessee sponsors it every year. Even though I thought Buzz Aldrin was an unappreciative jerk, I really enjoyed driving up to Nashville for the festival. I would love to attend the 2010 festival if I'm in the area.
-Hope
Filed under: Uncategorized
|
3

Comments
Tags:
books
,
buzz aldrin
,
humanities of tennessee
,
job search
,
louis vuitton
,
nashville
,
networking
,
rick bragg
,
southern festival of books
,
twitter
I decided to try p90x ( you know, the infomercials by Beach Body) after hearing from several friends that the program actually works. I have a membership to the YMCA, and I do go sometimes to muscle conditioning classes or to do a stint on the elliptical machine. But most of the time, I choose to do something instead of the y or put it off and then decide not to go altogether. I like working out at home because I can be terrible at the exercises and no one is watching me. When I go to the y, I feel like I need to dress up because so many people I know work out there. I end up feeling self-conscious and then I don't get the full results of a decent workout.
p90x is a 90-day workout based on muscle confusion (a term I don't completely understand). There is a video for every day during that period, and on the 7th day of each week, you have the choice to either rest or do a stretch sequence video.
I am on day four, which means today I will do Yoga X, which I guess means EXTREME yoga, since every video is INTENSE AND EXTREME (!!!).
Day One: Chest & Back, Ab Ripper X
Day Two: Plyometrics
Day Three: Shoulders & Arms, Ab Ripper X
Day Four: Yoga X
The Chest & Back video basically consisted of push up and pull up variations. I can't do a pull up. I've never been able to do any sort of pull up, even as a kid on the playground. So I at least tried every exercise and did most of the push-ups. The combination of the first day and the second day's Plyometrics made my body ache and unable to climb stairs. The next day was brutal, especially the Ab Ripper X, a combination of 349 ab exercises, and I felt like a beached whale slowly gaining rigor. 
I'm about the do the fourth video, and I'm hoping the yoga won't be some sort of extreme workout disguised as something I really enjoy. Wish me luck.
Inspiration of the day:
I'm a sales associate at Fossil and we just got the Maribelle leather bomber in.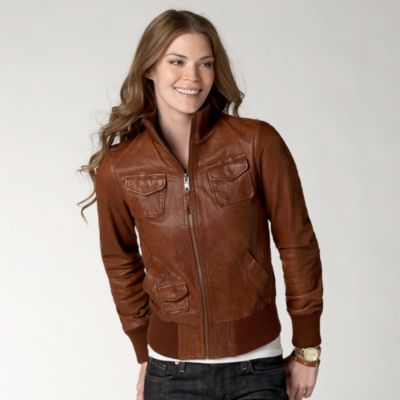 It's absolutely gorgeous, and with a hefty price tag of $200, definitely something I'll be saving up for.
-Hope
Filed under: Uncategorized
|
Leave a

Comment
Tags:
exercise
,
fashion
,
fitness
,
fossil
,
health
,
inspiration
,
p90x
,
workouts
,
yoga
Since it's first sweep of popularity, I've tried to fuel an interest in the AMC hit drama Mad Men. It's already won nine Emmy's after only two complete seasons. Several of my friends are die-hard fans of the show, and I remember a friend at work this summer counting down the days to the series premiere. When the first season hit the shelves at Blockbuster (this instance is before my husband and I enrolled in the genius Netflix plan), Chad and I rented the first disc with high hopes. After only watching two episodes, neither one of us really felt a draw to the series. The characters were somewhat compelling, complete with stories of intrigue and ingenue, but I really had no desire to rent the other discs.
So after hearing more about the show through my friends and the internet, I set the DVR to record all new episodes for this season. I skipped most of season one and the entire second season, but from experiences with my LOST obsession, it sometimes helps to skip the boring parts.
After watching this season, I have realized that the only part of the show keeping me interested is former-secretary-turned-supportive-doctor's-wife Joan Holloway/Harris. She caught my eye on the pilot episode, mainly because I love her style. With glowing red hair and perfectly manicured nails to match, her mixture of a polished wardrobe with a certain vintage pinup spark is absolutely amazing. Though the story lines don't quite compel me, Joan's fashion repertoire does.
One of my favorites:
Very inspiring.
-Hope
Filed under: Uncategorized
|
Leave a

Comment
Tags:
inspiration
,
joan harris
,
joan holloway
,
mad men
,
tv
There are so many things I want to change about myself and my environment. I am constantly thinking of new ideas and hoping to start projects. Luckily, I have really stuck with my craftiness of late…I'm working on a wedding present for a friend of mine.
I quit my vegetarian efforts on day 10. I don't think it's actually healthier to stop eating meat but continue eating lots of dairy (mainly, cheese). I mean, what else is there? It was too difficult to stick with it, especially since I was substituting chicken for Taco Bell cheese quesadillas. I couldn't actually maintain a healthy vegetarian diet.
I've been trying so desparately to be healthy lately, dragging myself to muscle conditioning at the Y, not eating meat, etc., and I still feel so unhealthy. What is the remedy? I'm only 22. I should be at the best physical condition of my life.
I think my problem is that I want change so badly, but I struggle with how to accomplish that change. I'm working every day to really figure out what I'm doing and why. I really miss writing. I didn't realize how much until recently…all those paper-writing all-nighters in college burned me out for a while. I couldn't really produce anything creative, but I'm suddenly feeling able to start writing seriously again. I feel like I'm rambling.
Inspiration of the day:
I am so unbelievably excited about this movie. The first time I watched the trailer, I almost cried…
-Hope
Filed under: Uncategorized
|
Leave a

Comment
Tags:
change
,
embroidery
,
projects
,
where the wild things are
,
writing